Video Flyer Maker
Make video flyers easily for your business with PhotoADKing. No designing skills are required.
Create a Video Flyer
Rare platform to create a video flyer, frankly, I didn't think of it as a new trend. I just came across their new video feature, it looks great. Thank You, PhotoADKing!

Richard Louis (Marketing Lead)
Rating: 5/ 5
Video Flyer Maker for Marketing
Create a video flyer to process your social media marketing. As there is nothing more pleasing than an interesting flyer video design. Our video flyer maker is super easy to use, even a non-graphics designer can make outstanding video flyers in just minutes. Our diverse range of templates covers almost all types of business along with a huge stock of video and audio, to sum up altogether. Tackle digital marketing at its best with PhotoADKing's video flyer maker.

Animated Flyer Templates
Create animated flyers with PhotoADKing's massive library of video flyer templates and save time. More from the visual content we have an exclusive range of video flyer templates that are trendy and can mix well with your business type. PhotoADKing assures a free-of-cost and effortless design experience. No design skills are required. Just find your design kind, customize as per need, and you are done in a few simple steps.
Key Features:
Take it as a video content creator to showcase your products for video marketing. The filters, effects, background, and video flyer templates that were hard to create once are now easily editable with PhotoADKing's video flyer maker.
Search for your video flyer template
Find your business category with a quick search bar and create a video flyer with an easy-to-use video flyer maker.
Create a Video Flyer
Just select a video flyer template and customize
Pick and customize one of our video flyer templates to get started.
Make a Video Flyer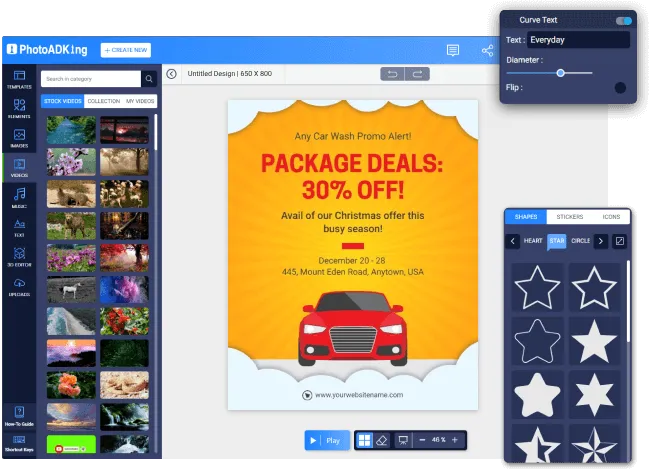 Advanced video flyer-making tools
PhotoADKing provides simple drag and drops video editing tools to create video flyers. Whether you want to add your own video or crop audio, you can do it all.
Create a Video Flyer
How to Create a Video Flyer
Browse Video Flyer Templates
1
Browse through the designs and find your brand match. You'll find a featured section in PhotoADKing's editor where all the video flyer templates are ready-made available.
Pick Audio for a Change
2
Looking to add a melodious tune to your video flyer, then head to the 'Add Audio' section and you'll find some cool tracks to trip on. Trim, Play, Mute your audio easily with a single tap.
Find Video Flyers of Your Kind
3
So you are done going through the designs, it's your turn to make a choice of video template that matches your needs. Make sure it fits well with your brand, the one you wish to edit.
Add a Suitable Video to Your Brand
4
After customizing your personalized video flyer, it is time to download and share it with the world. Click on the 'share' button to share your business flyer to the digital platforms.
Save and Download Your Design
5
After making all the possible changes, you can now have the design in your device gallery. Click the green 'Save' button to be able to redesign later and download it in a suitable format.
Create Video Flyers
Browse creative video flyer templates to make awesome video flyers with ease.
Create a Video Flyer
" data-original-title="" title=""> Marketing